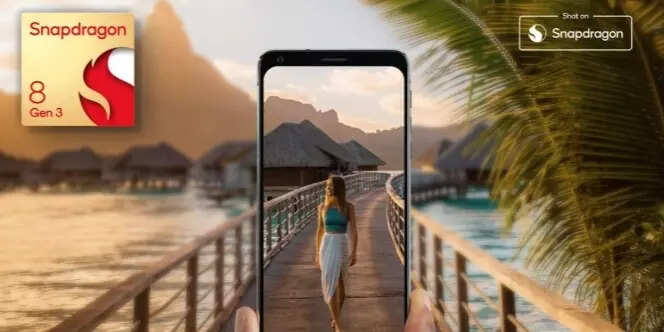 At the Snapdragon Summit 2023, Qualcomm announced its latest and most powerful flagship mobile chipset – Snapdragon 8 Gen 3. The new chipset aims to offer users faster CPU performance, better graphics performance and artificial intelligence improvements, and best-in-class power efficiency. . It comes with an improved Adreno GPU, a faster modem and better connectivity options. Apart from that, Qualcomm has also improved the security on the device with the latest flagship chip.
Brings system AI improvements
The highlight of the Snapdragon 8 Gen 3 chip is its improved AI features. Qualcomm says the chipset delivers high-performance AI throughout the system to deliver premium AI performance.
"Snapdragon 8 Gen 3 delivers high-performance AI throughout the system to deliver premium-
Level performance and extraordinary experience for users. This platform ushers in a new era of generative AI that enables users to create unique content, aid productivity and more
Breakthrough use cases. " said Chris Patrick, Senior Vice President and General Manager of Mobile
Snapdragon 8 Gen 3 adaptation
Qualcomm has indicated that the new chipset will power premium Android smartphones worldwide. Several OEMs are ready to launch their premium smartphones based on this chipset. These include Asus, Honor, iQ0oo, Meizu, NIO, Nubia, OnePlus, Oppo, Realme, Redmi, RedMagic, Sony, Vivo, Xiaomi and ZTE.
Snapdragon 8 Gen 3: Features
According to the company, the new AI Engine is a game-changing innovation designed for on-device generative AI applications. It ushers in a new era of virtual assistants that will transform the way users interact. It supports multimodal generative AI models such as Meta's Large Language Models (LLM), Language Vision Models (LVM), and Transformer Network-based Automatic Speech Recognition (ASR) with up to 10 billion parameters, all processed across devices.
With its stable diffusion technology, it can generate images in just a fraction of a second and ensures fast content creation. In addition, Qualcomm's AI Engine also boasts impressive speed, with LLM models capable of running 20 tokens per second, one of the fastest in the smartphone industry. In addition, it offers on-device personalization using data such as favorite activities, fitness level and location to provide personalized AI responses.
It also features a Hexagon NPU that delivers up to 98% faster performance, and the Qualcomm Sensing Hub sees a 3.5x AI performance boost.